NEW DELHI: Long queues of vehicles at filling stations. Hours-long blackouts. Desperate fight for food. Pakistan has plunged into one of its worst economic crisis since its formation in 1947, with the people and government now resorting to desperate measures to tackle the situation.
Experts have sounded alarmed regarding the financial crisis in the country amid fears that the nation could go bankrupt.
The situation is such that the the central bank of Pakistan has a paltry $4.4 billion in reserves, which is barely enough for three weeks of imports. Recently, the central bank increased its benchmark interest rate to 17%, the highest in more than 24 years.
Meanwhile, the country is already facing a 25 per cent inflation rate and the breakdown of the supply chain may cause hyperinflation in a country that might be in for more imported inflation due to steep currency devaluation.
Here are some indicators of Pakistan's severe economic mess …
Long queues at pump
Long queues of automobiles and motorcycles were witnessed at filling stations in Pakistan's capital city of Islamabad and the Khyber Pakhtunkhwa province due to reduced supplies by oil marketing companies, Pakistan-based Dawn newspaper reported.
According to petrol dealers, companies cut down supplies of petroleum products to the province over long delays in the issuance of letters of credit by private banks for imports.
Drivers in Peshawar said that most petrol pumps in the city were closed but the filling stations owned by the Pakistan State Oil, continued sales, attracting large crowds of motorists and motorcyclists.
The petroleum division's top officials are worried about the development as Pakistan is already facing a gas crisis. In some of the main pockets of the city, gas has become a rare commodity even at the time of cooking.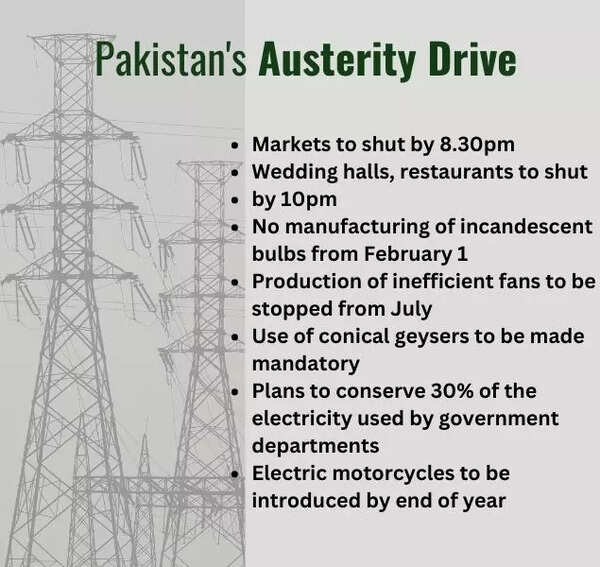 Massive blackouts
Earlier this week, a vast majority of Pakistan was left without power for many hours as the Shehbaz Sharif government's energy-saving measure backfired, leaving citizens in panic and a state of confusion.
Monday's blackout engulfed schools, factories and shops, and many among Pakistan's 220 million people were without drinking water as pumps powered by electricity also failed to work. In key businesses and institutions, including main hospitals, military and government facilities, backup generators kicked in.
1/20
Lights out: Pakistan hit by nationwide power outage
Power was mostly restored, though some parts of the country still experienced blackouts on Tuesday.
Authorities had turned off electricity during low-usage hours on Sunday night to conserve fuel, according to an energy-saving plan. Efforts to turn power back on early on Monday morning led to the system-wide meltdown.
Earlier this month, Pakistan government had announced austerity measures to tackle the growing energy crisis in the country, ordering all wedding halls, malls and markets to close by 8:30pm.
Food shortage
Meanwhile, A new report from the World Bank has revealed that an alarming six million people in Pakistan are currently experiencing acute food insecurity as a result of the devastating floods that hit the country last year. The situation has been exacerbated by the growing financial crisis.
The floods, which took place between June and August 2022, resulted in the death of more than 11 million livestock and the destruction of over 9.4 million acres of cropland in the provinces of Balochistan and Sindh, which are already among the most food-insecure regions in the country, Samaa TV reported.
According to the World Food Programme (WFP), the number of people experiencing food insecurity is projected to increase to 8.5 million between September and December.
In the last few days, videos from the neighboring country have emerged showing people literally struggling and fighting on streets for basic food items.
Posted by activist Jyot Jeet on Twitter, the videos show men fighting over a sack of wheat that fell from a truck.
The visuals gave a glimpse into the severe economic mess the country is currently in.
Stranded containers
At the same time, over 8,000 containers of food items, raw materials and medical equipment are stranded in ports, aggravating inflation that has lingered above 20% since June.
Prices of chicken, eggs and flour in the country continue to rise even as global commodity costs have moderated.
The importers are unable to get over 8,531 containers cleared due to a shortage of dollars. The shipping companies, on the other hand, are now threatening to suspend Pakistan's operations over the country's failure to make timely payments.
IMF bailout
On the bright side, Pakistan is "expecting progress in the talks with the IMF soon" and dollar inflows will come once that's completed, according to central bank governor Jameel Ahmad, who made similar remarks last week about incoming funds from the Middle East.
Other officials have also made those assurances in the past but the money has yet to materialize.
Pakistan has repaid $15 billion of the $23 billion in loans due in the financial year ending June, the governor said at the briefing. Of the remaining $8 billion, $3 billion will be rolled over, he said.
However, there are reports that the IMF may not release more funds under the programme until the pledges made by the government are met.
(With inputs from agencies)

#Explained #Pakistan #plunged #economic #mess