Ukrainian fighter pilots recently visited the US, and a particular type of aircraft to be provided to Kyiv has already been determined, according to the claims made by the spokesperson for the Ukrainian Air Force on January 24.
US Demands Return Of Spy Ship That Was Seized By North Korea Along With 82 Crew Members During Vietnam War

---

Russia Turns To Taliban For Weapons; Reports Claim After Iran & N.Korea, Moscow Eyes US Arms In Afghanistan
"Our military pilots went to the United States; funds were allocated for the training of our pilots," said Colonel Yuriy Ihnat, the spokesman of the Air Force Command of the Armed Forces of the Ukrainian.
"The type of aircraft, which is likely to be provided to Ukraine, and the corresponding terms of [personnel] training have already been determined."
He further explained that the process to incorporate this new unspecified aircraft type is not simple, as it does not just involve the training of the flight crew, the training of aviation engineers, and the preparation of airfields to receive the new aircraft.
"Every effort is being made to make our dream of switching to this plane come true as soon as possible," Ihnat said.
However, Ihnat did not disclose which aircraft type had been selected or provide any timeline for the aircraft delivery or training of the chosen fighter pilots. Reports citing unnamed Ukrainian experts suggest that the aircraft type could be some variant of the F-16 fighter jet.
This is corroborated by Colonel Ihnat's interview last year in July with Air Force Magazine, wherein he said that two squadrons of 12 F-16s each, plus some reserves, would turn the tide of the war with Russia.
Ihnat told the magazine that Ukraine has at least 30 pilots with sufficient English-language skills ready to travel to the US for training with the corresponding engineers and maintenance teams.
"To learn the first stage of takeoff and landing and flying from point A to point B, it will take a few weeks, but to learn how to fight on it, to learn how to use missiles, we will take around six months," Ihnat said.
So far, the US has not officially confirmed Ukrainian claims, except that the top Pentagon spokesman, USAF Brigadier General Pat Ryder, when asked about these claims by The War Zone, said that he was unaware of any Ukrainian pilots currently training in the US.
However, only a few days ago, Netherlands' Foreign Minister Wopke Hoekstra indicated the possibility of providing Ukraine with F-16s. During a parliamentary debate last week, Hoekstra said that if the Kyiv government requested the fighter jets, the Dutch Cabinet would look into it with an 'open mind.'
Also, the US House of Representatives version of the 2023 National Defense Authorization Act called for funding to train Ukrainian pilots on American fighter jets.
F-16s For Ukraine
Since the onset of the Russian invasion of Ukraine, the Kyiv government has been lobbying the Western governments to supply fighter aircraft.
In mid-December last year, a Ukrainian MiG-29 pilot who goes by the call sign Juice told The War Zone that Ukraine could do with any type of fourth-generation Western fighter such as the F/A-18 Hornet, JAS 39 Gripen and F-16. However, he singled out the F-16 as the most suitable.
Juice pointed out that the global availability of the F-16s and the fact that several of Ukraine's regional neighbors operate the platform meant the airframes and spares of the Viper are available in more numbers.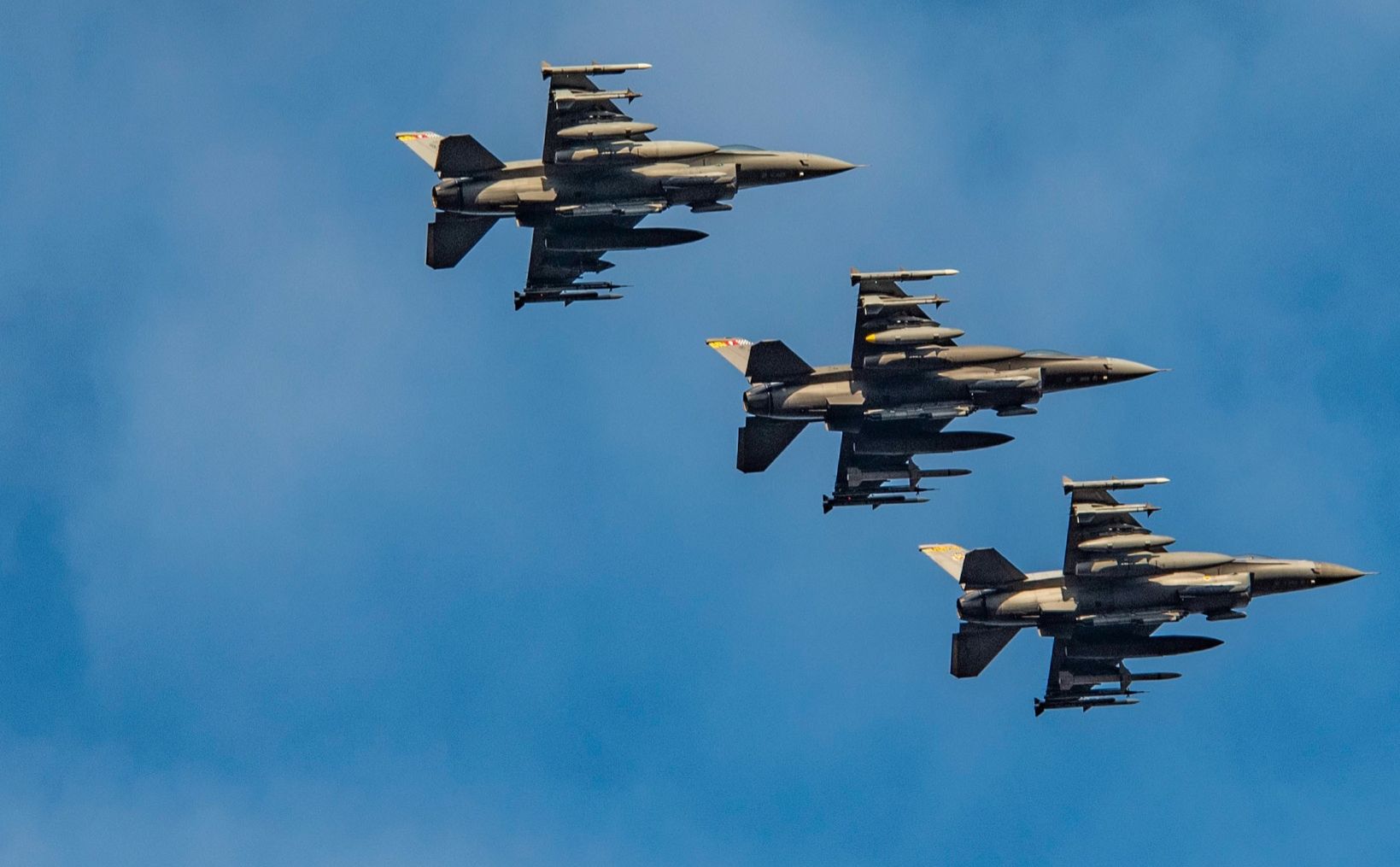 Juice also highlighted the wide variety of options that the F-16 offers in terms of equipment, saying, "In the case of the F-16, you have a lot of options for different training programs, different electronic countermeasures, different engines, different everything — it's like Lego!"
"It may be the most realistic choice for Ukraine, considering capability, availability, affordability, and most importantly, sustainability," Juice further said.
Experts from the leading UK-based defense think tank, Royal United Services Institute (RUSI), recommended in a report last year that Saab JAS-39 Gripen C/D fighter jets were "by far the most suitable candidate" for Ukraine, operationally, for several of the Swedish aircraft's characteristics, as discussed in detail by EurAsian Times.
According to experts, one of the features of the Swedish Gripen that made it the best fit was its proven ability to operate from austere airstrips with minimal maintenance support. When asked about it, Juice said he did not believe that flying from remote airstrips and roads was as crucial of a characteristic.
"I flew from the highway in the MiG-29. My mates flew from highways in the Su-27. It's not the most important aspect of performance," Juice said. He further noted that while Gripen is good enough, Swedish Air Force needs them, and they did not have many of them.
However, Juice did appreciate the Gripen's Meteor beyond-visual-range air-to-to-air missile. He said he could bridge the gap with the long-range R-37M missiles fired by Russian aircraft at Ukrainian fighter jets while operating from the safety of Russian airspace.
Nevertheless, Juice views the AIM-120 AMRAAM as a more likely weapon, considering the Ukrainian forces are already using it as part of the NASAMS air defense system. Therefore the required logistics arrangements are pretty much in place already.
Furthermore, Juice also explained that hunting for Russian warplanes is not Ukraine's top priority currently, as it will need a lot of resources.
"Our priority is to shoot down their attack platforms above the front lines… First, we need to cover our regions to cover our ground forces, and after that, we can try to have some fun with other fighter jets. It will be a great challenge. But still, new hardware means new tactics, new doctrine for all operations, and I hope all that will help us to succeed and that the Russians won't feel comfortable even in their airspace," Juice said.
That said, experts are not very convinced that the F-16s could turn the tables against Russia on their own.
F-16s Could Trigger World War 3!
Veteran Indian Air Force (IAF) fighter pilot VK Thakur said in a tweet that the two 12 F-16 squadrons would have to operate together with US E-3 AWACS aircraft to make a difference, and that would make the US AWACS active participants in the conflict.
"Without AWACS cover, Ukrainian F-16s will be cannon fodder for RuAF Su-30SM & Su-35 flying underground radar cover on 24×7 air dominance patrol over the frontline. The F-16s will be just another straw for Ukraine to clutch on in its terminal spiral down," Thakur said.
Deputy Chairman of Russia's Security Council and Former President Dmitry Medvedev warned last year that NATO personnel actively participating in the conflict will become "a legitimate target" for the Russian armed forces.
As EurAsian Times discussed earlier, an AWACS platform could be taken out using the Russian fighter-launched RVV-BD air-to-air (A2A) missile or the S-400 system-launched 40N6E missile.
For example, in October last year, a NATO AWACS platform in Poland and Romania operating in 24/7 mode allegedly failed to detect the Russian Su-57 fifth-generation aircraft, which resulted in a Ukrainian Su-27 fighter being shot down by an R-37M missile fired from a Su-57, marking the first air-to-air kill by a Felon.
The downing of a NATO AWACS by the Russian armed forces could potentially mark the start of World War 3!
#F16s #Cannon #Fodder #Russian #Fighters #Accompanied #AWACS #Expert