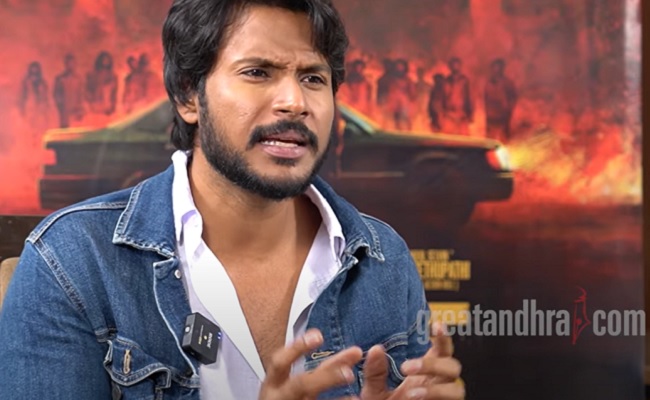 Hero Sundeep Kishan captivated one and all with his action-packed show in the theatrical trailer of Michael which will be gracing the cinemas on February 3rd.
The actor who looked lean, fit, and fabulous in the trailer in his exclusive interview with us says he lost weight for the character. 
"When I'm doing a film where I did a character which I never did before, I had this idea of undergoing a makeover to look new. Nagarjuna's mean and lean character in Shiva is the inspiration for the look of the character. My energy levels are very high now and I could perform stunts effortlessly."
The makers maintained a low profile about the movie until recently and Sundeep says they intentionally did so to reveal the kind of movie they made through the teaser and trailer.
"This film is going to be very strong. It's a mad action love story set in the 90s gangster world. The love story is whacky. My intention of doing this movie is to break my comfort zone and challenge myself."
He further reveals, "We revealed the story in the trailer. It is like Rambo fell in Love. It's a completely different vibe of Prasthanam shot in high action mode."
Sundeep informs he will appear in three different looks in the movie. "I will appear in a character of three different age groups- 16, 24, and 29."
The movie stars many popular actors such as Vijay Sethupathi, Gautam Menon, Varalaxmi Sarathkumar, Anasuya Bharadwaj, Varun Sandesh, etc.
"All these actors come to the story of Michael. Everyone has scoring moments. I hardly have 100 lines, and I had to emote most of the time with expressions."
Watch this video for Sundeep Kishan's exclusive interview:

#Nagarjunas #Shiva #Inspiration #Michaels