A lot of drama unfolded at Nawazuddin Siddiqui's plush Andheri bungalow. While the actor is out of town, his estranged wife Aaliya Siddiqui returned home and according to her, Nawaz's mother wreaked havoc upon her entry.
A teary Aaliya told ETimes, "My finances are in a bad condition and since I don't have my passport right now to travel to Dubai, I returned to my rightful husband's home. But my sister-in-law Shaba and mother-in-law Mehrunnisa asked me to leave instantly. My mother-in-law went on to say that Nawaz and I were divorced and that my second child is also illegitimate. Making such allegations and dragging a child into this is so hurtful. After all this, they have now filed a police complaint against me."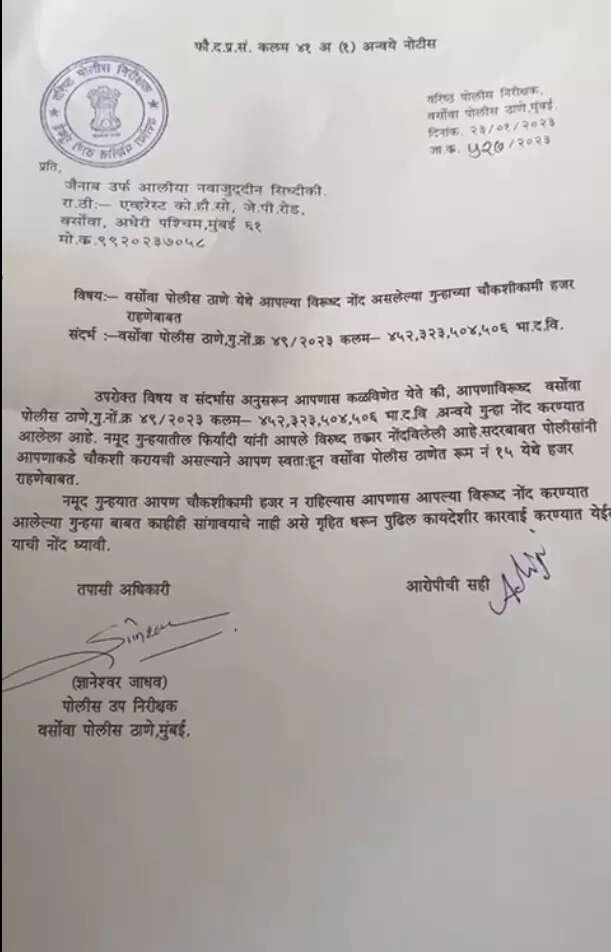 She went on to share that the actor's family also called the cops to get her moved out of the house at midnight and all this while Nawazuddin was unreachable over the phone. Aaliya alleged that she was not even given a blanket to sleep through the night. "Ever since I returned from Dubai, I have been staying with my friends here and there. I underwent an appendix operation and none of them came to even check on me in the hospital. My health has also been affected with all this," said Aaliya.
On Monday morning, Aaliya was served summons by the Versova police station, asking her to appear before them in a complaint filed against her, under IPC sections 452, 323, 504 and 506, which amount to trespassing and criminal intimidation among other charges.
In May 2022, ETimes had exclusively reported how Aaliya was planning to return to Mumbai from Dubai, with her kids Shora and Yani, since things didn't settle for them there. She said, "After this academic year, I will bring my kids back home, right now they are under the care of a trusted maid. Nawaz used to visit us on and off in Dubai. However, recently his manager Anup went to Dubai and took my daughter Shora for a FIFA match in Qatar. I was not comfortable with my 12-year-old being sent off with someone I don't know well and raised the same with Nawaz too. I have taken care of my kids till now and will continue to do so."
Speaking about her financial situation, Aalia added, "I faced massive losses with the release of my movie 'Holy Cow' because it didn't get a proper release. All my money went into making the movie and Nawaz doesn't support me financially. He only supports the kids, I have to fend for myself and the situation is very sad."
In 2020, Aalia had sent a divorce notice to Nawazuddin, but she withdrew the same a year later, stating that they are trying to keep their differences aside for the sake of the kids. However things seemed to have turned ugly again.
ETimes reached out to Nawazuddin's manager but received no response.
#Nawazuddin #Siddiquis #mother #files #complaint #wife #Aaliya #Siddiqui #trespassing #criminal #intimidation #Hindi #Movie #News