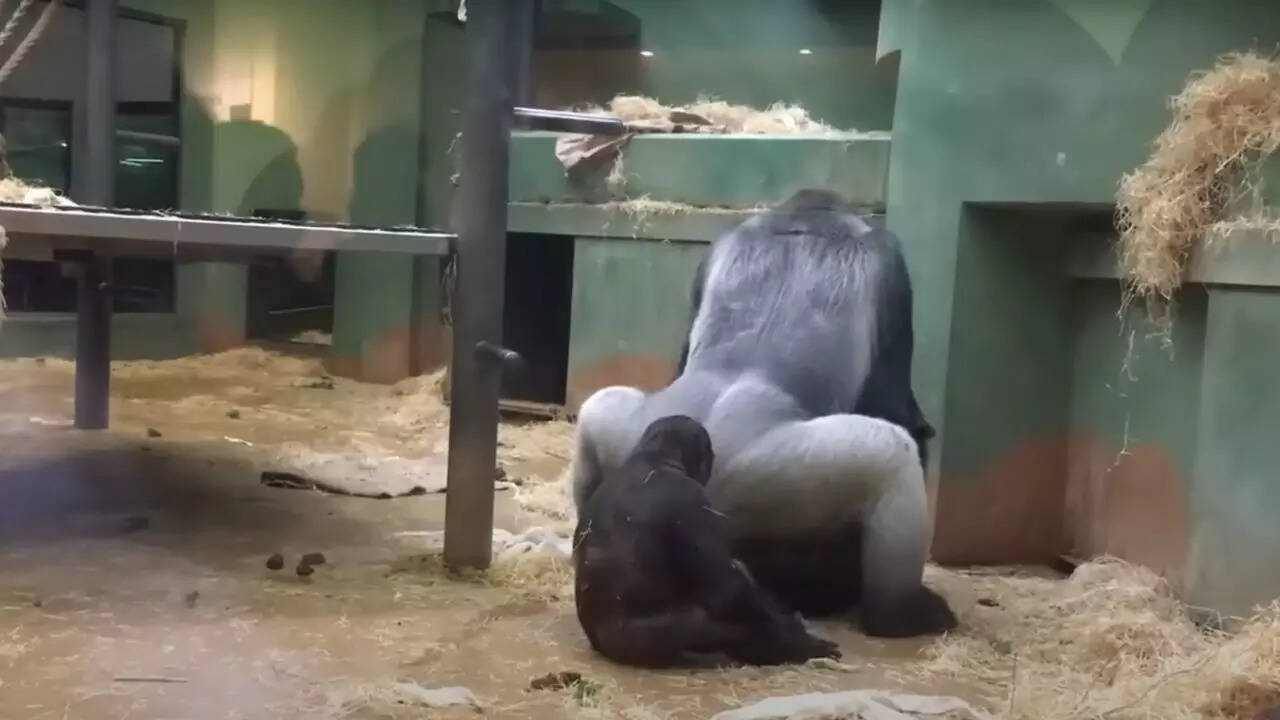 A pair of mating gorillas caught in the act in their zoo's enclosure while a young primate watches on with curiosity | Screenshot: YouTube/TrBeats NewMzk
Photo : YouTube
KEY HIGHLIGHTS
Footage shows a silverback and a female copulating in their enclosure as zoo visitors watch on.
A young gorilla then decides to watch the action up close.
Parents off camera could be heard answering uncomfortable questions to their children.
A pair of gorillas left visitors at a zoo embarrassed when they decided to start mating in front of kids — and their parents.
A viral video documenting the incident has resurfaced online and shows the moment an educational trip to the zoo quickly turned into a watch-and-learn gorilla sex session — the kind you'd see on Discovery.
Animals, regardless of whether they're captive or wild, can get up to all sorts seemingly undeterred by the possibility that you're watching.
It's unlikely that you'd see a chimpanzee ride a bicycle out in the wild and it's entertainment like this that people bring their whole family to witness.
But if a handful of the animals decide to copulate in full view, visitors can do little more than watch the gyrating hindquarters of a male gorilla.
It's what some unfortunate families got to see when two gorillas in an enclosure started doing it.
It's unclear whether any mating rituals other than the female approaching the beastly silverback were involved. However, from the looks of it, the two playmates circled around a bed before getting into position for the deed.
When it finally dawned upon the visitors what they were doing, some prudish voyeurs were evidently horrified by the amorous display.
A young person off camera can be heard going": "Okay, no, no, no…I've seen too much" before mustering the courage to ask one of their parents "Are they having sex?".
It only gets weirder when a young, inquisitive gorilla approaches the mating pair, sits right behind them to watch the action up close and even puts a hand on the male's backside.
At one point, a mother can be heard telling her child "I don't know if you know, but this is how babies are made."
Humans aren't the only ape species that does it for pleasure. Research has shown gorillas tend to have recreational sex without the intent to procreate.
#Parents #horrified #gorillas #starting #mating #front #kids #zoo