Pakistani police said that the suicide bomber who killed over 100 people in the Peshawar mosque attack this week has been identified and that he breached security by wearing a police uniform, reported local media on Thursday.
In a press conference, Khyber Pakhtunkhwa Police Chief Moazzam Jah Ansari said that the bomber was "in a police uniform and was wearing a mask and a helmet," reported Pakistan-based Dawn. "We have obtained the CCTV footage of his movement from Khyber Road to the Police Lines, then how he parked his motorcycle on a side," he added.
He added that the attacker's severed head was found at the blast site.
The attack took place on Monday in Peshawar's heavily fortified Police Lines and killed more than 100 people, all but three of them policemen. The Tehreek-e-Taliban Pakistan (TTP), known as the Pakistani Taliban, claimed responsibility for the suicide attack, saying it was part of a revenge attack for slain TTP commander Umar Khalid Khurasani who was killed in Afghanistan in August last.
The police chief of the province where Peshawar is located said that authorities found bound ball bearings used in a suicide jacket from underneath the rubble yesterday. He added that the police did not "check the attacker because they thought he was their own", said the report.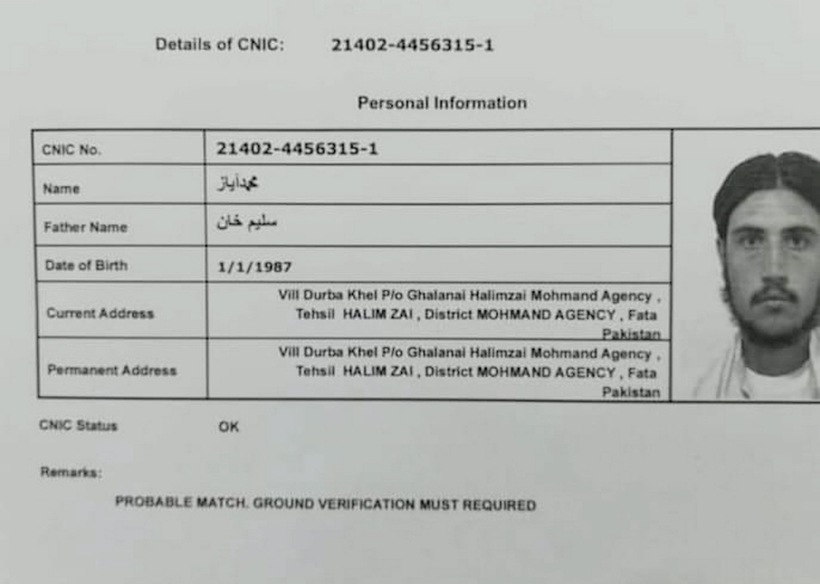 The suspected bomber of the Peshawar mosque blast was identified as Mohammed Ayaz, as per initial reports. (Handout photo released by Peshawar Police, via PTI on Jan. 31, 2023)
"At 12.37 pm, he [the attacker] entered the main gate on a motorcycle, came inside, talked to a constable and asked him where the mosque was, this means that the attacker was not aware of the area […] he was given a target and there is an entire network behind him … he was not a lone ranger," Ansari said, as per the Dawn report.
He added that 10 to 12 kg of Trinitrotoluene, an explosive known as TNT, was used in the attack. "In trinitrotoluene blasts, the shockwaves have no space to go anywhere," which caused the high number of casualties, explained the officer to reporters.
"The 50-year-old mosque at the Peshawar Police Lines did not have pillars … so when the bomb exploded, the walls and roof caved in. My children [the people inside the mosque] were stuck under the rubble for hours," he said, reported Dawn. 
The suicide bomber who was present in the front row during the Zuhr (afternoon) prayers on Monday blew himself up, causing the roof to collapse on the worshippers, said a PTI report quoting security officials.
Ansari said that the entire police force is grieving the demise of their colleagues, but vowed to "take revenge for each and every martyr".

#Peshawar #mosque #attacker #wore #police #uniform #breach #security #Pakistan #police #chief