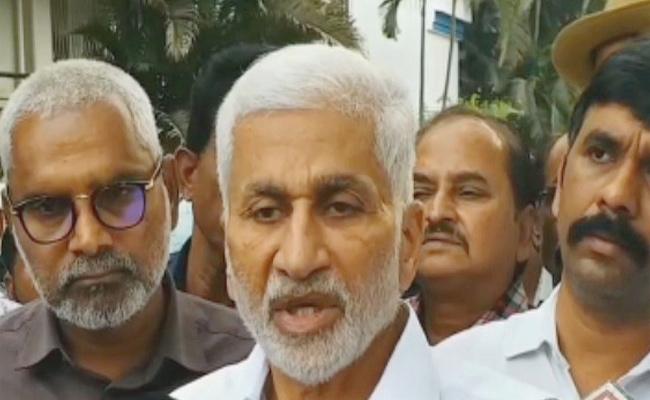 For a change, YSR Congress party general secretary and Rajya Sabha MP V Vijay Sai Reddy has thanked Telugu Desam Party legislator and senior actor Nandamuri Balakrishna on Wednesday.
Sai Reddy called on Nandamuri Taraka Ratna, actor and grandson of TDP founder and former chief minister late N T Rama Rao, at Narayana Hrudayalaya in Bengaluru, where his condition is said to be still in critical condition.
The YSRC general secretary was all praise for Balakrishna for personally taking care of the health condition of Taraka Ratna.
"Right from the day one, Balakrishna has been staying put at the hospital and taking care of all the medical needs of Taraka Ratna. Thank you very much, Balayya," Sai Reddy said.
Taraka Ratna happens to be the son-in-law of Sai Reddy's sister-in-law (Taraka Ratna's wife Alekhya Reddy happens to be the daughter of Sai Reddy's wife's sister).
It is said it is Sai Reddy, who has been supporting Taraka Ratna after his acting career was in doldrums.
Sai Reddy told reporters that the condition of Taraka Ratna was fast improving. As the blood supply to his brain got disrupted for about 45 minutes when he suffered cardiac arrest on January 27, there was a damage to the nervous system, he said.
"But now, the situation is much better. His heart is functioning well and the blood supply has improved to a large extent," he said, adding that there will be much more improvement in the health condition in a day or two.
Sai Reddy spoke to doctors and enquired about the minute details of Taraka Ratna's health condition. He also called on the actor's family members and asked them not to worry as the latter's health condition is improving.

#Balayya #Sai #Reddy