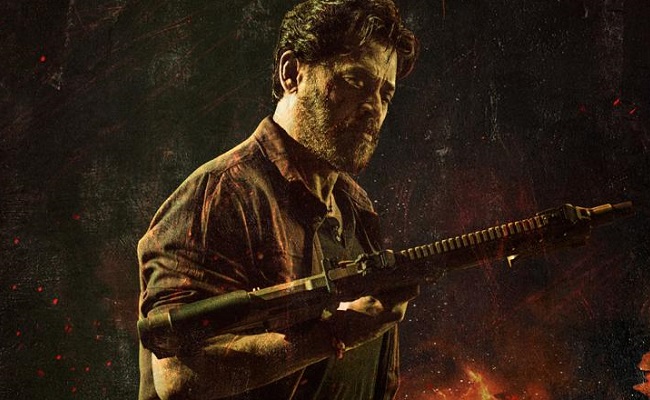 Venkatesh will be doing his 75th film, the content of which will appeal largely to the audience across the country.
To be helmed by Sailesh Kolanu, the Pan India film will be produced prestigiously by Venkatesh Boyanapalli under the banner of Niharika Entertainment.
Besides announcing the title through a poster, the makers have also unleashed a glimpse of the movie. An interesting title Saindhav is locked for the #Venky75.
The poster presents him in an action avatar, as he holds a gun in his hand and there is a blast behind him.
The glimpse is meant to show the intensity of Venkatesh's character. The location is revealed as Chandraprastha, a fictional port city located in south India.
Sporting a rugged look, Venkatesh makes his entry on a Royal Enfield bike, takes out a medicine vial from the ice box, goes inside a container, and takes the gun out from there.
He gives a stern warning to a rowdy batch who were seriously hit. "I won't go anywhere… Tell him to come…" thunders he.
The glimpse gives the impression that Saindhav will be high on action and thrilling elements with lavish production values and top-notch technical standards.
What really intrigues us is the medicine vial which indicates there is a science angle to the story. As the glimpse makes a strong impact, and we can say, it's a proper planning from the makers to begin the promotions with the video.
On the other hand, it's a perfect choice of Venkatesh for his landmark 75th movie.
While the music is scored by Santosh Narayanan, S Manikandan takes care of the cinematography and Garry BH is the editor.
The shoot of Saindhav will kick-start soon.

#Venkateshs #Saindhav #Glimpse #Intriguing #greatandhra.com